Daltons Demolitions Ltd provides a complete asbestos management solution including asbestos surveying, asbestos removal and remediation services on large and small-scale works. We have a successful track record safely removing asbestos in a variety of markets/sectors.
Daltons Demolitions Ltd asbestos operatives are fully trained and medically monitored to ensure that the utmost precaution is taken whilst removing or disposing of Asbestos. Daltons invests heavily in training and mentoring to guarantee that the most current and effective safety measures and procedures are employed.
Asbestos has been used in more than half a million buildings/structures throughout the UK since the 50s. If asbestos is found in your premises you will need to take action depending on the type of asbestos identified within the survey and its condition.
In some instances it may safely remain in place providing it is encapsulated, undisturbed, clearly labelled and its condition is regularly monitored.
Daltons Demolitions Ltd will ensure our highly trained specialists safely control the remediation process to meet the requirements of all regulations. We are diligent at every stage of the process right through to the post-removal inspections.
Feel free to contact us to discuss your next project.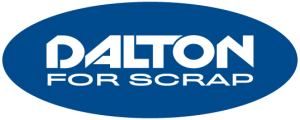 Dalton for Scrap deliver a professional comprehensive service for all your scrap metal recycling requirements.